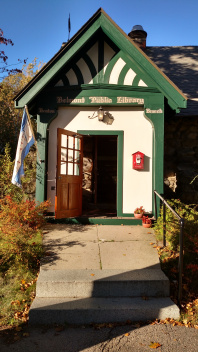 Hours, Fall 2022
Tuesdays, 10 AM – 12 PM
Wednesdays, 2 PM – 7 PM
Thursdays, 2 PM – 4:30 PM
Fridays, 10 AM – 12 PM
Saturdays, 2 PM – 5 PM
1st Friday evening every month, 5 PM – 8 PM
Look for the OPEN flag!
Volunteers are returning to the Benton Library, but we are still rebuilding our full schedule. If the flag is out by the front door, you are welcome to visit. Please wear a mask.
Occasionally, there are staffing or weather issues that cause the library to close unexpectedly. If you're ever unsure, call the library at (617) 484-0988.
Location
75 Oakley Road
Belmont, MA 02478

At the corner of Oakley & Old Middlesex Roads.
Directions
Via Public Transportation (From Harvard Square)
MBTA Bus 73, Waverly Square via Mt. Auburn
Depart Harvard Square Station (13 mins)
Arrive Belmont St @ Oakley Rd
Walk to 75 Oakley Rd (About 4 mins)
Via Automobile (From Harvard Square/Memorial Drive)
Head west on Memorial Drive (Route 2 and 3A N) (1.3 mi)
Slight left at Mt Auburn St ( 0.6 mi)
Slight right at Belmont St (1.0 mi)
Turn right at Oakley Rd. Destination is after four blocks on the right, at the corner of Old Middlesex Rd. (0.2 mi)