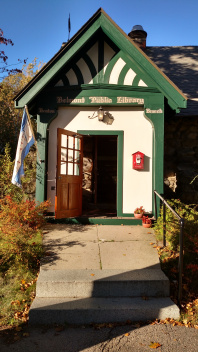 Hours, Fall 2021
Tuesdays, 10 AM – 1 PM
Fridays, 10 AM – 1 PM (starting October 1st)
Saturdays, 2 PM – 5 PM
1st Friday evening every month, 5 PM – 8 PM
Look for the OPEN flag!
Volunteers are returning to the Benton Library, but we anticipate it will take a little longer to rebuild our full schedule. If the flag is out by the front door, you are welcome to visit. Please wear a mask.
Occasionally, there are staffing or weather issues that cause the library to close unexpectedly. If you're ever unsure, call the library at (617) 484-0988.
Location
75 Oakley Road
Belmont, MA 02478

At the corner of Oakley & Old Middlesex Roads.
Directions
Via Public Transportation (From Harvard Square)
MBTA Bus 73, Waverly Square via Mt. Auburn
Depart Harvard Square Station (13 mins)
Arrive Belmont St @ Oakley Rd
Walk to 75 Oakley Rd (About 4 mins)
Via Automobile (From Harvard Square/Memorial Drive)
Head west on Memorial Drive (Route 2 and 3A N) (1.3 mi)
Slight left at Mt Auburn St ( 0.6 mi)
Slight right at Belmont St (1.0 mi)
Turn right at Oakley Rd. Destination is after four blocks on the right, at the corner of Old Middlesex Rd. (0.2 mi)